Description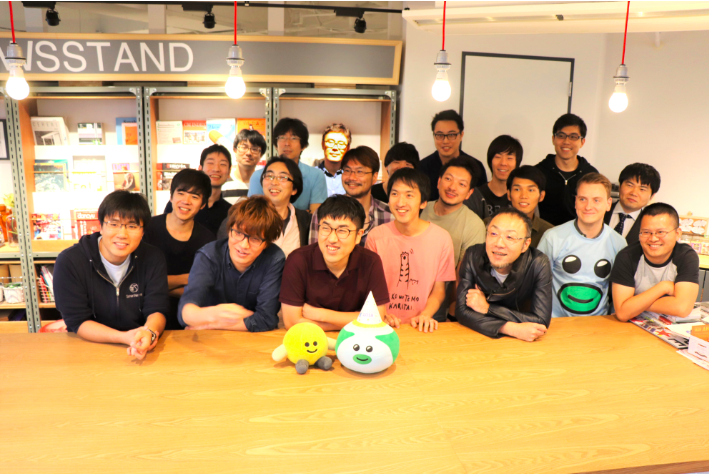 【募集背景】
SmartNewsは、全世界で4,000万ダウンロードを誇り、日本の月間アクティブユーザーも1,400万人を超える規模に成長しています。2018年は米国での成長も著しく、2019年はさらなる飛躍を目指しています。
開発のスローガンに「グローバル1チーム」を掲げており、2018年9月にはSVP of ProductがSan Franciscoオフィスに参画しました。現在は60名程度の開発組織ですが、2019年も日米ともに、組織規模をさらに拡大していく方針です。
このようなグローバルプロダクト開発体制のもとで、個々のエンジニアの力を最大限に引き出す環境を作り上げ、それを事業の成長に結び付けることのできるマネージャ人材を募集しています。
【仕事内容】

チームメンバーへのメンタリング、キャリア形成、フィードバック、目標設定
四半期ごとのチーム目標設定、組織計画の策定、チームビルディング
他チームとのプロジェクト間の調整、アサインメント
エンジニア採用への積極的な関与
【Background for recruitment】
SmartNews boasts 40 million downloads worldwide, and is growing into a scale to have over 14 million monthly active users in Japan. Our growth in the U.S. was remarkable in 2018, and we are aiming for further rapid growth in 2019.
Our development motto is "One global team", and in September of 2018, we welcomed on board Senior Vice President of Product in our San Francisco office. We are currently a development team of around 60 members, but aim to further expand in both Japan and the U.S. in 2019.
We are seeking to recruit talented people to join our team as a manager under our above global product development structure, to create an environment which will enable to maximize each engineer's full potential to result in the growth of our company.
【Roles and responsibilities】
Act as a mentor, support career developments, give feedback, and help set goals for your team members.
Set team goals each quarterly, develop team plans, and play an active role in team building.
Coordinate with other teams on projects and assign tasks accordingly.
Be actively engaged in recruiting engineers.
Requirements
【必須条件】
ソフトウェアエンジニアとしての十分な開発経験とスキル
円滑なコミュニケーション能力
当社のプロダクトやミッションへの強い興味・関心
【歓迎条件】
機械学習/バックエンド/フロントエンド/クライアント/データプラットフォームのいずれかに関する専門知識とマネジメント経験
ピープルマネジメントの経験
【Essential Qualifications, skills, and experience】
Sufficient development experience and skills as a software engineer.
Effective communication skills
A strong interest in our product and our mission.
【Desirable Qualifications, skills, and experience】
Expertise in and experience with managing either machine learning/Backend/Frontend/Client/Data platform.
Experience in people management.
Benefits
福利厚生
SmartKitchen - ランチカフェテリア無料
地球珈琲 - バリスタが淹れる本格珈琲無料
各種勉強会用自社イベントスペース完備
外国語学習の費用負担
各種社会保険
交通費全額支給
Benefits and Perks
SmartKitchen - Healthy lunch on a daily basis for free
ChikyuCoffee - Delicious coffee provided by our Barista every day
Event space - Free use for any kind of meet up
Foreign language development support
Various social insurance benefits included
Full transportation coverage
エントリー方法

以下のフォームからエントリーをお願いします。また、公開可能なソースコード(GitHubのアカウント等)や履歴書、職務経歴書も合わせてお願いします。
How to apply
Please apply via the form below & please also submit source-code like GitHub account and CV