Software Engineer, Data Platform
Description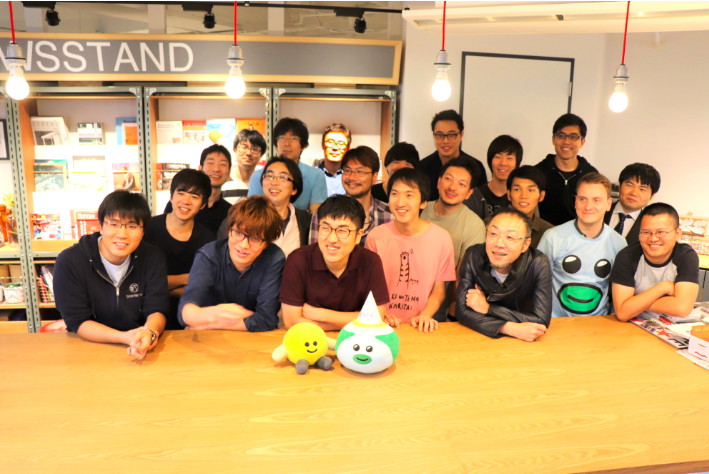 Job Description / General Message
The data platform software engineer in SmartNews plays a key role in accelerating the products/business developments. Great efforts are paid on building a highly efficient and flexible data service for analytical and operational purposes.

To serve the internal users from analytics and product-dev teams, the goal and mission of data engineers is to create high-level, easy-to-use data services for simplifying the accessing, integration and consolidation of various data sets, and also building the platforms for executing tasks processing massive data in terms of TB per day.
Technology drives the growth of SmartNews, and thus we eagerly adopting cutting-edge technologies from the industry and academia especially, the open-source community.
職務概要/メッセージ
スマートニュース(または「当社」)におけるデータ・エンジニアリングは、プロダクトやビジネスの成長を加速させる重要な役割を担っています。各種分析やオペレーションの業務を効率化し流動的に行うことを可能にするデータ・サービス構築に当社は大きな重点を置いています。
データ・エンジニアの目標およびミッションは、社内のアナリティクスやプロダクト開発チームのために、多様なデータセットへのアクセス、インテグレーションおよび統合を容易にするための高度で使いやすいデータ・サービスを構築することであり、さらには日々のTBに関連する大量のデータを処理するプラットフォームを構築することです。
当社は最適なコストパフォーマンスの実現を目指し、ユーザーの要求を満たしSLA/SLOを保証するような最善のソリューションを常に模索しています。スマートニュースでは、ソフトウェア・エンジニアリング、データベース、そして特にビッグデータ向けオープンソースの分野における最新の技術を積極的に導入しています。
Responsibilities
Design and develop new services, libraries, tools, frameworks for data processing or management, and investigate new algorithms to increase efficiency for Data Processing, such as ETL, Data Pipelines, OLAP DBMS, real-time messages and streams processing, data-sync between systems, etc.
Do performance evaluation, monitoring and tuning of the data processing procedures or platforms, get insights of efficiency and stabilizability and make continuously improvement, such as optimizing distributed query engines, computing resource management and isolation, multi-tier storage systems, etc.
Own and maintain the key data processing portfolios such as building and taking care of the environment, trouble-shooting and being responsible to the on-call of incidents.
Work closely with data architecting/modeling roles to understand ways to implement the data service, and interact with Site Reliability Engineering (SRE) team to deploy the environments and drive production excellence.
Diagnose and resolve complex technical challenges for data accessing or processing. Using elegant and systematic rather than ad-hoc methods to help other teams tuning the performance and improving stability.


仕事内容
データ処理や管理のための新しいサービス、ライブラリ、ツール、フレームワークを設計、構築、導入する。さらにデータ処理の効率性を高めるために新しいアルゴリズムを研究する(ETL、データパイプライン、OLAP DBMS、リアルタイム・メッセージ、ストリーム処理、システム間のデータ同期等)。
データ処理の手続きやプラットフォームのパフォーマンス評価、モニタリング、調整を行い、効率性や安定性について洞察を行い、継続的に改善を行う(分散したクエリエンジンの最適化、リソース管理やアイソレーション、多層ストレージシステムの計算等)。
耐久性があり拡張性のあるデータプラットフォームをサービスとして構築するために、例えばメタデータ管理システムやデータレークを構築したりデータフローやワークフローフレームを活用したりすることで、主要なデータ処理ポートフォリオ(データアクセスのためのAPI、データ処理のためのETL、データホスティングのためのストレージ/DBMS、またその基礎となるハードウェアやソフトウェアのアーキテクチャ等)を保有し維持する。
データ・アーキテクチャ設計やデータ・モデリングの人材と密接に連携し、データ・サービスを導入する方法を考案する。さらにサイトリライアビリティエンジニアリング(SRE)チームと協働し環境をデプロイしプロダクションの性能を上げる。
データアクセスやデータ処理に関する複雑で技術的な課題を特定し解決する。その際に、他のチームがパフォーマンスを調整したり安定性を改善したりできるよう、その場しのぎの方法ではなく、洗練された体系的な方法を用いる。
Requirements
Qualifications
BS/MS degree in computer science or equivalent science/engineering degree with 5 or more years of experience
Strong Programming skills and experiences with deep understanding of data structures and algorithms are required for building efficient and stable solutions

Rich experiences with one or more programming languages such as Java, Scala, C++ or Python; familiar with agile development and manage testing skills
Need certain knowledge on shell scripts and operating systems, especially on Linux

Good understanding of modern bigdata technologies and ecosystems

Familiar with Hadoop, Spark, Hive, Presto, Storm or Flink, be able to develop data processing programs with them in batch or streaming manner
Familiar with modern data stores either RDBMS or NoSQL stores (such as HBase, Cassandra or Druid, etc); have experiences on developing application or function-extensions on such data stores
Be able to implement and tune complicated heavy-lifting data flows (ETLs or pipelines), familiar with certain toolings

Capability of system design with good modularity and extensibility

Familiar with system/module design methods and toolings such as UML
Be able to draft the user-understandable blueprint and precise, detailed designs

Experience of building highly scalable distributed systems

Able to design and implement distributed services with scalability and performance in mind
Able to debug and troubleshooting performance and reliability problems
Benefits
Benefits and Perks
SmartKitchen - Healthy lunch on a daily basis for free(Tokyo Office)
ChikyuCoffee - Delicious coffee provided by our Barista every day(Tokyo Office)
Event space - Free use for any kind of meet up(Tokyo Office)
Foreign language development support
Various social insurance benefits included
Transportation coverage (Maximum 50,000 yen)
福利厚生
SmartKitchen - ランチカフェテリア無料(東京オフィス)
地球珈琲 - バリスタが淹れる本格珈琲無料(東京オフィス)
各種勉強会用自社イベントスペース完備(東京オフィス)
外国語学習の費用負担
各種社会保険
交通費支給 (上限5万円)
How to apply
Please apply via the form below & please also submit source-code like GitHub account and CV
エントリー方法
以下のフォームからエントリーをお願いします。また、公開可能なソースコード(GitHubのアカウント等)や履歴書、職務経歴書も合わせてお願いします。